Classic Album Review-Kenny Rogers "Love Will Turn You Around"
Greetings from Asheville, where the good music always flows like wine from the turntable, the CD, or the MP3. Today, it's a look back at what was Kenny Rogers' tenth solo album, Love Will Turn You Around. Released on Liberty in June, 1982, it would sell a million copies, while peaking at number five on the Country bestseller list, while stopping at thirty-four on the Pop side. As for singles, two would be released from this album.
The title cut opens things for this disc. Also a part of Kenny's movie, "Six Pack", "Love Will Turn You Around" would become his tenth number one Country single in the late Summer of 1982, while also topping the Adult Contemporary charts, and peaking at thirteen on the Pop singles list. Good track, one that I'd rank high among the Rogers hit list. I've always liked this song.
Another Kenny Rogers hit that I've always liked, and would actually even go so far as to call it underrated, is the Lee Greenwood penned "A Love Song". Simply a great ballad and one of his best vocal pieces. Fall, 1982, saw this one peak at three on the Country charts, while also cracking the Adult Contemporary top ten.
"Fighting Fire With Fire" is about as Country as Kenny has ever gotten, the only thing missing, here, is a strong dose of steel. Outside of that, pure Country. As for the song and the performance, it's one of the album's stronger tracks, good song and good vocals. A Hidden Gem contender.
Yes, I'm often critical of the overproduction and overly Pop sounds that dominated the early 1980's in Country music, but that said, in the case of Kenny Rogers, those lusher sounds are better suited in most cases. What we often got with Kenny was a song that was Country in nature, Pop in production, and a vocal that falls on the line; really not much different than Eddy Arnold or Jim Reeves in their day. "Maybe You Should Know" is a classic example. Good track.
A touch of Soul is added to side one's final track, "Somewhere Between Lovers And Friends". Not a bad track, with a good beat, but overall, a bit on the bland side.
Side two opens with the pure Pop sounds of "Take This Heart". Mid tempo, it's average.
"If You Can Lie A Little Bit" stops just short of being a smoker. Great melody, this is a definite Hidden Gem contender. I'm really liking this one.
I'm guessing that many of Kenny's female fans really liked the ballad "I'll Take Care Of You", a real love song. This is a track that is blessed with some very strong lyrics, though (I'm nitpicking) the melody isn't my favorite. Overall, though, a fine track.
"The Fool In Me" doesn't do much for me; just kind of there and one of those tracks that doesn't really hold my attention. Unfortunately, my collections does not include a copy to compare, but I think this is the same "The Fool In Me" that gave Sonny James his final Country top forty hit in 1982, of which I base on not having heard Sonny's track in at least twenty-five years.
The album wraps with one more ballad, "I Want A Son", which speaks of man's desire for fatherhood. Again, a song that falls into the bland side of things.
This album has been on CD, though right now, it appears to be not available, though it is available as an MP3 download. I did find many used CD's, along with used vinyl, even some 8 tracks and cassettes, as well, most pretty inexpensive.
A good argument can be made for either single to be Standout Track, I'll go with "Love Will Turn You Around" since it was the bigger hit. Really, I like both tracks. My Hidden Gem has to go with "If You Can Lie A Little Bit". As for the Weakest Track, I would go with "The Fool In Me".
Overall, it's not Kenny's best album. I love both of the singles, simply great songs. And there's a couple of very good album cuts, as well, but the rest ranges from okay to bland. This one rates, at best a 2.5 out of 5.
Find both hit singles from this LP on the Kenny collection, below from Barnes And Noble.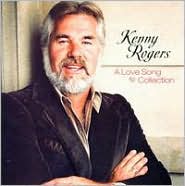 MORE GREAT ALBUM REVIEWS BELOW
Earl Thomas Conley – "Somewhere Between Right And Wrong"
Razzy Bailey – "Feelin' Right"
"The David Frizzell And Shelly West Album"