Classic Album Review-Floyd Cramer "Last Date"
Greetings from Asheville, where life is always grand, thanks, in part, to there always being good music on the turntable, in the CD, or on the MP3. Pick up almost any Pop or Country record of note of the late 1950's and early 1960's, and there's a very good chance that the piano you hear on it was played by none other than Floyd Cramer. One of the greatest session men of all-time, Floyd played for the likes of Elvis (it's Floyd you hear on "Heartbreak Hotel"), Eddy Arnold, Brenda Lee, Jim Reeves, and the list goes on. But Floyd was more than just a session man, he was a top artist, as well; one who found success in both Country and Pop music. Honestly, when I want to hear piano music, I want it to be Floyd Cramer piano music; he was just that good. Floyd perfected a style of playing called "slip note", where one note glides effortlessly and smoothly into the next. The result is a style that is different than most other pianists, and makes for some of the most beautiful sounds to ever emanate from an eighty-eight.
Today, we look back at Floyd's breakthrough disc, "Last Date". Released in both stereo and mono by RCA Victor in November, 1960, the album, ironically didn't chart, despite the immense popularity of the title cut. In all, the album contains two singles, plus a remake of a third.
The title cut is the opening cut of the disc. Quite simply, it's the most beautiful piano melody ever put to vinyl, as far as I'm concerned. What a sound! Incredible melody, a perfect vehicle for Floyd's style of playing. The single was released just before the album, and would race to number two on the Pop side, while just missing the Country top ten, stopping at eleven. And get this, so popular was the single, it even climbed into the top five on the R & B charts.
"I Need You Now" has a nice, relaxing sound that again, is a great showcase of Floyd's work. A really nice melody on this piece, as well.
Pop music aficionados will remember the Four Lads' classic "Moments To Remember". Here, you get a smooth, steady performance of this memorable melody. Nothing to criticize, here.
In the minds of many, the answer to the question of the most beautiful melody ever written would be "Tennessee Waltz", and it would be hard to argue. No intro, he just dives right into it. Nothing fancy, here, just good solid playing on this classic.
Next, we get Floyd's take on the Nat King Cole hit "Too Young". I think this is a great recording that is one of the Hidden Gem contenders. Wonderful cut.
"Mood Indigo" wraps the first side. One of those songs that has made the rounds, over the years, being recorded by numerous artists and is considered a classic in Jazz circles. The music was co-written by the legendary Duke Ellington. It is a great melody and Floyd gives a nice take; I especially like the effects heard in the middle and end, it provides a bit of a different sound.
If there is a criticism on side one, it is that all six tracks are pretty much the same tempo, which, even though the songs are great and Floyd's work is classic, can still get a sameness in the sound, without a tempo change to break things up.
Side two opens with a bit of that tempo change, on "Sweetie Baby", in fact, quite a tempo change! A swinging, bouncy track that is more old-time Rock 'N Roll, than anything else. A real hand-clapper, here. I'm liking.
The rockin' sound continues with "Mumble Jumble", kind of a Martin Denny-type sound, here. If you remember Denny's hit "Quiet Village", then this track will remind you a bit of that, but with a bit more edge. Again, I'm liking this one, even with the goofy voice at the beginning.
"Flip, Flop, And Bop" was released as a single in 1958, but garnered little attention, not even making it out of the eighties on the Pop charts, while not even sniffing the Country charts. Another rocker, this one is, in fact, pure 1950's Rock 'N Roll. Those few who did get to hear it on AM radio back in the day, likely didn't realize what a treat they were getting. Good sound, here, that I think should have garnered more attention. Even on these rockers, Floyd's playing is still smooth as silk. Simply incredible.
Next, we're treated to remake of Floyd's first chart single, "Fancy Pants". The original "Fancy Pants" was released on the small Abbott label (same label of Jim Reeves' first hits) in 1953, and just broke into the Pop top thirty, with the Louisiana Hayride Band backing him up. This remake is a bit slicker than the original, and from it's sound, they didn't try to exactly replicate the original, yet tried to keep the same feel. Overall, they did a pretty good job. A fun melody to hear from time to time.
Our look at the rockin' side of Floyd Cramer continues with "Rumpus". A decent melody, though not quite as good as some of the others on this side, yet it still retains something that makes you want to keep listening; I think it's the combination of Floyd's playing and the unique backing. Country, but with a strong influence of Jazz, here. All in all, not a bad track.
The bouncy "Heart And Soul" puts a wrap on the album. One of those melodies that everyone knows, yet you may not know the title. This is a song that only works with a bouncy melody, thus meaning we get a nice treat to end this disc with. I don't know why, but I can just picture Floyd having some real fun playing this song in the studio.
While not shocked, I am just a little bit surprised that this album has yet to see digital. Maybe it will, someday. In the meantime, there are some used copies, out there, both mono and stereo, and generally for less than $15. Original issues came with a bluish silhouette cover and "New Orthophonic High Fidelity" on the record label. Later issues had the same photo, but in full color on the cover and made no mention of "N. O. H. F." on the label.
Standout Track is obvious, "Last Date". As for the Hidden Gem, "Too Young" is hard to beat, though "Flip, Flop, And Bop" is a strong contender. This album really doesn't have a Weakest Track.
Overall, this is a pretty good album, featuring some incredible piano playing, which is no real surprise, considering the man playing. Really, my only criticism is having all of one tempo on each side. This is something that was done, from time to time on different albums (Wanda Jackson's "Right Or Wrong" comes to mind), but I'd like to have them mixed up a little bit, give a little variety throughout the disc. Other than that, though, some really good music, here, showing how you can successfully mix Country, Rock, Jazz, and even Big Band to come up with something fresh and different, which this was in 1960. I rate this one a solid 4 out of 5.
REVIEWS OF WORKS FROM THE MASTERS
"Swing Along With Floyd Cramer"
"Chet Atkins Picks On The Beatles"
Charlie McCoy – "Good Time Charlie"
MORE ALBUMS TO CHECK OUT
Like to hear some Floyd Cramer?  Click below to get a copy of some of Floyd's greatest hits!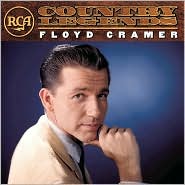 And just for fun, here's a Youtube video of Floyd Cramer's original recording of "Fancy Pants".