Classic Album Review-"Chet Atkins Plays Back Home Hymns"
Greetings from Asheville where good music is always found on the turntable, in the CD, or on the MP3. Considering that it was around 1950 when RCA Victor first began releasing 33 1/3 albums, it's really rather amazing that by the Fall, 1962, Chet Atkins was already releasing his twentieth album. That was the case, though, as October saw the release of Chet Atkins Plays Back Home Hymns. No Country album chart existed at the time of release, and it failed to crack the Pop 200 list. There were also
no singles from the album. One would think, when looking down the track list, that these songs would almost be tailor-made for Chet's playing. Let's find out. This is a recent acquisition, so this is also a new listening experience for myself.
The album opens with "Take My Hand, Precious Lord", one of the Gospel greats. Chet gives it a nice, relaxed feel that brings to mind a hot, Summer Sunday, in a little church, somewhere, crowded with people, stained glass windows open. I really like Chet's take, here.
That nice, easy flow extends to Chet's version of "Amazing Grace". Simply great playing that we come to expect from a Chet Atkins album or CD.
He picks up the beat, a bit, on the Carter Family classic "Will The Circle Be Unbroken". Not quite to hand-clapping tempo, but it moves along with a smooth, seemingly effortless pace. Another very good track.
Okay, I may have just found a new favorite version of the classic "In The Garden". It's amazing how such simplicity can yield such brilliance. A song that really has a simple melody, yet one of the most beautiful that you'll find in Gospel music. And Chet's take on it is basic, nothing fancy in his playing nor in the accompaniment, yet the result is beauty and brilliance.
Next, "When They Ring Them Golden Bells" is a laid-back piece of great guitar work of a song that never has been one that's done much for me, either way. Great version, though.
Side one ends with an outstanding rendition of yet another great piece, "Just As I Am". A great version, perfect for a moment of solitude and prayer.
Side two opens with Chet's take on "Farther Along". Much like the rest of the disc, it's not anything fancy, just good, solid music.
Too many times, when the classic "Just A Closer Walk With Thee" is performed, it is done so in a slow tempo, which is fine and there are certainly some outstanding versions, such as Roy Clark's. I really like it, though, when someone speeds it up to a little quicker pace, which is what we get on this album. I think the song's beauty really shines with a quicker pace. Great piece of music.
And it's the same story on "Old Rugged Cross". Take a classic melody, give it an outstanding performance, and magic happens.
"Lonesome Valley" has a swinging, almost Jazz-like beat to it, even though the arrangement is strictly Country. The harmonica (I'm guessing Charlie McCoy) gets some spotlight time, here, as it does in several tracks. Great piece of music.
"God Be With You" is a great melody that is only enhanced by the magnificent workings of Chet Atkins.
Chet gave this album a great end with his rendition of "Were You There", yet another outstanding Gospel melody that one never tires of hearing. A version that ranks with the best of them.
I was a little surprised to see that this album is still available on CD, but it's on the market. In addition, you can actually by a corresponding guitar chord book, as well. I also found used copies, both vinyl and CD, ranging in price from $10 to as high as $50.
An album that has no Weakest Tracks, as for the Standout Track, what a tough choice, but I'll go with "In The Garden". For my Hidden Gem, I'll pick "Just A Closer Walk With Thee", just because, again, most of the time, it seems we hear a slower version. Chet's take on it shows just how great it is with a little beat.
Overall, an album that is definitely worth inclusion into any collection. If it's an album that is not currently in your possession, I certainly recommend it. Great melodies that are given a wonderful treatment at the hands of a guitar master. I rate it a 5 out of 5.
Click on image below to pick up a copy from Barnes And Noble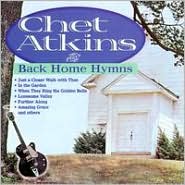 MORE FROM CHET ATKINS
"Neck And Neck" w/Mark Knopfler